Nordhill Capital Review – Scam or Honest Fund Manager?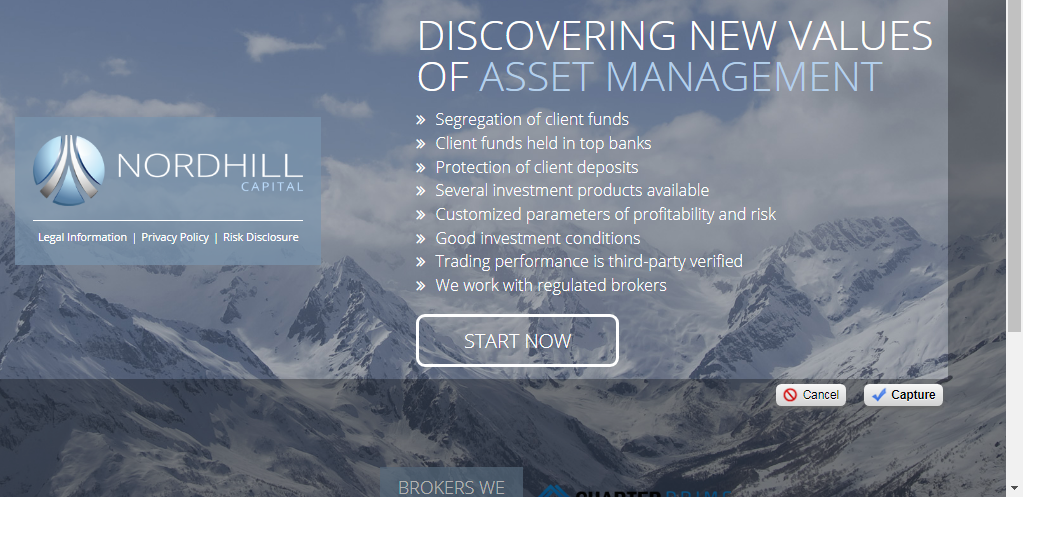 Thanks for reading this Nordhill Capital review. I am reviewing a seemingly robust managed Forex account provider claiming to offer several investment products with varying degrees of profitability and risk profiles.
Nordhill Capital also claims to have gained recognition and awards from entities like (EUTA Capital) MasterForex -V Expo, China Forex expo (best portfolio management) and the best investment fund in 2015.
Although the relevant badges and certificates have been uploaded for visitors on the homepage to see the acclaimed accolades, there are no links pointing back to any reference websites.
This denies prospective clients the chance to scrutinize the allegedly acquired milestones of this fund manager. I am not entirely ruling out the possibilities of faking these awards using a Photoshop software.
Throughout my internet research, I cannot find any evidence or reference to Nordhill Capital ever winning any of these awards.
On the homepage, Nordhill Capital list some attractive but usual features on their platform. These include segregation of client funds at top-tier European banks, protection of client deposits, good investment conditions, regulated brokers and myfxbook-verified trading performance.
Of all these, I am particularly concerned with Nordhill Capital trading products and myfxbook performance.
The company has head offices in a number of regions across the world. These include Malaysia, Thailand, China, Indonesia and Dubai United Arab Emirates.
Nordhill Capital was started in 2013 by an Estonian Economist, Maksim Sepp to provide asset management services to individuals and corporate clients.
To contact the company, visitors can use any of the support telephone numbers that correspond to their region.
A contact form has also been integrated on the website for those who won't use the telephone.
Important links
» Click here to find out where the best Forex trading signals can be found.
» Or invest with this managed Forex account provider and earn up to 19% monthly returns. 
Welcome to the Nordhill Capital Review
Unlike many fund managers in the Forex marketplace, Nordhill Capital uses a number of trading strategies which have been bundled as "investment products".
I am concerned with these "investment products" because this is where Nordhill Capital gives its clients the right to choose what investment strategies they want to use according to their risk appetites.
There are at least 8 investment products which are all linked to the official myfxbook account of Nordhill Capital.
These "investment products" or trading strategies are called Sparrow FX, Pavilion FX, Hawk FX, Hybrid FX, Shark FX, Opal FX, Ruby FX and Emerald FX.
I may not have time to go through all of them. However, if I review at least two of them, you will get a good idea on what it's like to have this managed Forex account provider handling your portfolio through any of the trading strategies mentioned above.
The minimum investment that Nordhill Capital is asking for is $5,000.
Each one of these investment products will trade one or a number of FX pairs. These trading systems have been categorized according to the duration of the trade. So you will actually see that some systems are tailored for short term results while others long term results.
I like the fact that this managed Forex account provider is keen on proving their past performance through the usual third-party verification platform, myfxbook.com.
Nordhill Capital performance on myfxbook.com
I am particularly concerned with Sparrow FX because of the purported gains.
This account was started in 2015 and has been active until 2018. At the time of writing this Nordhill Capital review, the account was showing a gain of +557.58% and a draw down of 6%, which is nothing short of impressive.
By all trading standards, these figures are considered really awesome.
However, Nordhill Capital still suffers setbacks in form of not maintaining consistent gains across the year.
For example, in the month of January 2018, there were losses of -3.01% followed by another loss in March and July of the same year.
In 2016, there were no losing months. Then in 2017, there were two losing months.
This information did not get captured very well in the equity curve. But you can easily analyze the data and see what was happening throughout the months.
When I look at the trading activity of this fund manager under this trading system, I realize that Nordhill Capital is focusing on scalping the market while putting stops very close to entry.
Some trades are actually being closed at -1.4 pips loss, which is very unusual considering that all expert traders know that a currency pair like USDJPY is so volatile that putting stops too close to entries almost never works even if the trade was to go in the right direction.
While I appreciate the transparency of Nordhill Capital because they let their prospective clients thoroughly scrutinize their trade history on myfxbook.com, I still wonder why we cannot see their current open trades, open orders and exposures.
These tabs contain critical information which clients must know, and if they are locked i.e kept private, then it leaves our imagination running wild. I certainly want more transparency here.
Nordhill Capital Review – the FCA warning
And there is an FCA warning against Nordhill Capital faking licensing details.
Although I could not find any references of the FCA on the Nordhill Capital website, the FCA maintains that this company has been using the reference number 502635, which belongs to Hantec Markets Limited.
The FCA is the financial regulator in the UK where this company is operating out of, and there is definitely no reason to believe that the FCA was lying about this matter.
It is possible that Nordhill Capital stopped using this reference number to avoid problems later on.
Nordhill Capital Review – the conclusion
While this company goes an extra mile to present a tidy myfxbook performance, my recommendation is that they should leave everything open because we as clients have a right to see this information.
Additionally, I find it creepy that Nordhill Capital has been cloning details of another investment company without their authorization. This is really bad.
So right now I am sited on the fence with regards to whether or not to recommend this service. I'm 50 50 because I need certain matters addressed by this company.
If you have anything to say regarding your experience with this company, comment below. Otherwise, thanks for reading this Nordhill Capital review.