FXpro.investments Review: Is fxpro Investments Scam or Safe Broker?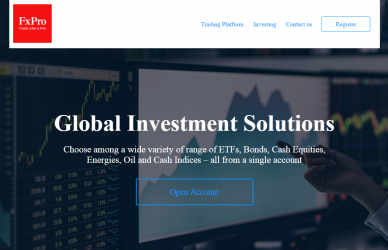 FXpro.investments is a Forex and CFDs broker offering a wide range of trading instruments which include but not limited to oil, energies, equities, Bonds, ETFs and Cash indices.
However, FXpro Investments is an unregulated broker. Regulatory information which is available at the footer of their website belongs to another Forex broker called FXpro.com.
By using this trick, FXpro.investments intends to trick and mislead users into believing that they are on FXpro's official website.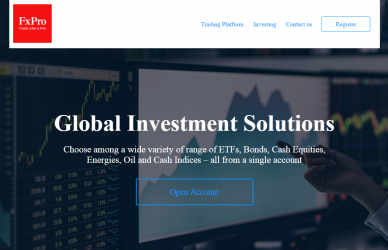 FXpro.investments is currently engaging in a clever marketing strategy where they mostly focus on the keyword 'FXpro' to leverage it and possibly steal a fair amount of web traffic that was originally destined for FXpro.com.
With regards to what they offer, the site appears to be targeting traders who want variety and are not keen on doing their due diligence.
A look at the FXproInvestments website reveals that this notorious broker has stolen FXpro's logo and is using it on their website in addition to several other elements that are similar to those of the legit broker.
The domain FXpro.investments was registered anonymously in July 2017, and is currently receiving a big chunk of their traffic from the country Pakistan.
In this FxPro Investment review, we will give you reasons as to why you should never invest with this shady broker.
If you need a good broker, click this link to find out which brokers we are currently trading with.
For those of you who need signal alerts, you can subscribe here for a premium signal service from our own blog.
FXpro.investments review
This broker tells us that they are owned and operated by a company called FxPro Financial Services Ltd.
The said company is associated with FXPro, the legit broker. However, nowhere in the company's profile did they cite any association with the website/broker FxPro Investments.
Actually, this broker claims that their website is the property of 5 companies namely FxPro Group Limited, FxPro Financial Services Ltd,  FxPro UK Limited, FxPro Global Markets MENA Limited and FxPro Global Markets Ltd.
All of these companies are licensed and regulated by the CySEC, FSCA and SCB.
You can rest assured that none of these companies is associated with FXPro Investment or are aware of this kind of forgery.
Account types
They appear to offer 1 account type only but this account gives access to 1000 instruments and 4 asset classes.
The same account can trade indices, cash equities and futures. With regards to the trading software which is supported by this broker, we found that FX Pro Investment was offering the famous MT4 software.
On the other hand, the legit broker whom they have cloned offers cTrader as well.
This is currently my favorite trading platform. Its user-friendliness and aesthetics are mind-blowing.
Now, MT4 is offered by nearly all brokers because it is the most common trading platform.
It's robust and offers a lot of compatibility and flexibility. You can plug your favorite expert advisor and get going.
The charting feature in addition to trading indicators which are found on this platform are amazing.
However, FXPro Investments should not lie to you that this is one reason why you should choose them.
Trading on this platform can be done on the web, desktop and mobile. The app is available for both iOS and Android users.
FXPro Investment review – Other features
The broker offers fixed and floating spreads which have not been specified in terms of the actual numbers in pips.
They claim to offer instant and market execution, although we haven't tested their trading platform, so we can't know for sure whether this is a true ECN broker or a market maker.
Besides, FXPro Investment does not reveal information concerning their trading conditions such as the amount of leverage offered, the minimum deposit required and so on.
This information is very important when it comes to making a decision on whether or not to use a broker's service.
Lack of transparency is one of the greatest problems for this dubious broker, followed by the fact that they are lying about their regulatory status.
Conclusion
FXPro.Investment is a bogus broker and you should not do any business with them at all.
If you need a list of regulated and genuine brokers, we advice that you look for one here.