Forex Robots or Forex Education: Which Way?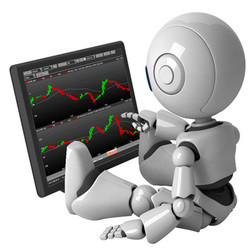 For a long time now, traders have been debating over whether they should stick to Forex robots or learn how to trade Forex through quality education.
You see, the phrase Forex robot receives a lot of monthly searches on Google. But the market is also responding by having too many snake oil marketers on board.
They sell "get rich overnight" trading software and indicators. They love to make promises that are borderline insane. For example, you will hear them saying that you can quit your job as soon as you buy their magic system or that you will buy a Lamborghini and a posh sea-front Manson while also affording to party hard in the Bahamas a couple of times a year.
I'm sure you have seen these characters on the internet. And now you're wondering:
Is there any truth to the claim that traders can bank many pips each month and on a consistent basis using a Forex robot or education?
Or can robots take the place of Forex education and vice versa?
Well, this post covers the much debated topic of Forex robots vs Forex education.  Maybe you're planning to start trading or have lost money to corny internet marketers who can lick the wax out of your ear because of the nature of their gimmicky tongues. Regardless, this post is still relevant to your situation.
Forex robots: what are they
A Forex robot is basically an automated trading program that buys or sells orders depending on the instructions embedded in its algorithm. If a set of criteria has been met, it will fill orders automatically. Take Profits, Stop losses, money management etc are all handled by the robot without the need for human intervention.
I am personally recommending these trading systems to Campforex.com readers. You can pick any from that table.
---
Not all Forex robots work the same way
Market conditions do change from time to time. That's why I always insist on analyzing at least 6 months of data on myfxbook before endorsing any Forex robot to my readers.
I consider 6 months of trading good enough to get a clear overview of the strengths and weaknesses of any trading robot.
This length of time is sufficient enough to allow me observe the behavior of the robot when the markets are trending, ranging on a sideways manner, or when trading conditions are both favorable or unfavorable.
Because most bogus Forex expert advisors are designed to follow a set criteria which must be met in order for that robot to enter and exit the market accordingly, they do not have the capacity to adjust to the changing market conditions.
Many times I have received emails from traders who got humiliated by the fact that they were using a Forex robot that was making money. Then all of a sudden, it started losing money.
In my opinion, traders who opt to use Forex robots must only purchase software that take all market factors into consideration. When the markets are trending, part of the algorithm must take care of that.
When there is high slippage, the program must protect you from that too. When broker is playing games, the same robot must make it harder for them to gain an edge on you.
I find that tweaking settings and testing all the time to keep tabs with the changing market conditions is a hectic job. It takes the hand of an experienced trader to identify settings that will work best in each market condition. That may not be a common skill by the way.
Don't buy an automated trading system with no intelligence
Learning how to trade properly takes time and experience. Even if you have learned the fundamentals of price action trading for instance, you still need sufficient screen time to acquire some experience.
That may not be the route to take if you're an impatient guy. But on the other hand, if your Forex robot wasn't designed with an intelligent algorithm, then it means it will always act like sheep being led into the slaughter house.
The big boys keep manipulating the Forex market a few times a week. When they do so, they create traps intended at capitalizing on the mainstream trading methods that you and me learned during our early days at Baby Pips.
Because you have a Forex robot that you bought for cheap, say $100, you think that you can roll up your sleeves and go up against the 'Goliaths' of the Forex marketplace.
But that will be your greatest undoing because your robot does not have a clue on the fact that traps have been laid, and naive traders are destined to the slaughter house with their doomed trading robots and indicators.
By the way, if you want to succeed as a Forex trader, learn to snatch the money from the institutions rather than have them snatching it from you and slaughtering your trading balance like a pig.
But if learning is going to cost you time (usually years of learning), I recommend a service like eToro where you just copy trades from traders who have demonstrated their skill over time.
If you're going to use a trading robot, then I recommend purchasing/subscribing to a trading system whose vendor has thorough knowledge of how markets change over time. You can read this post for an in-depth insight into the topic.
Don't use a trading robot that opens positions just because Moving Average indicator, MACD etc made crosses. You'll burn.
The role of back-testing vs live results
With learning how to trade Forex, you need the fundamentals of trading first. But the hardest part is acquiring the experience. While you sharpen your skills, you will come across dozens of trading strategies. Some will work for you while others won't. And even if you find a strategy that works and all of a sudden, you start making losses with it, then going back to the drawing board to create a new one from scratch isn't always the best decision.
That strategy might have remained constant. But remember that market conditions aren't. Your strategy isn't your enemy here. The changing market conditions is your biggest challenge.
Wrapping it up
Ultimately, it's up to you to decide. If you want to go the way of Forex robots and indicators, do so as long as the vendor you're buying from has a thorough understanding of how the markets work. If you're going to take the route of a student who wants to invest money and time learning, well and good. Be prepared to commit the resources and effort required. At the end of the day, you shouldn't fall in the hands of con men and women.