Fore Signal Review: Is Foresignal.com Scam?
I have been concentrating on Forex expert advisors for some time now. I did Lion FX Trader which I faulted because it had a huge draw down. Then came the FX Charger, which I faulted because the developer was and is still using hype in their marketing efforts. These plus many more have passed through my hands.
So today it's time to review one of the most popular free Forex signal provider, Fore Signal.
By the way, I am not making a spelling mistake here. It's the name of the website whose domain name is hosted at Foresignal.com/en.
It's interesting to note that Fore Signal is offering their signals right on the homepage of the website. You do not have to look any further to see what is happening on this website.
The goal of putting signals right where everyone can see them is to entice users so that they can upgrade to Fore Signal premium plan or subscribe to some other products/services which this site is promoting.
Fore signal are also offering their signals on Facebook, Twitter and Blogspot pages. This means that you could still use this service right away even without looking at their website.
So far, we haven't established who owns Fore Signal. However, records do indicate that the server is hosted in Germany.
This clearly means that the owner of Fore Signal prefers a mysterious life as opposed to a high profile life where customers can get a chance to know them better.
However, Fore Signal has included an email address ([email protected]) where all inquiries can be submitted to. The website does not see the need to provide any further contact info.
Fore Signal Review: Is it a good signal service?
To answer this question, we would be forced to review their product and then form our opinion afterwards. It's not a matter of saying Yes or No because that would amount to misleading my readers.
The first thing we need to take notice of is that Fore Signal is offering signals that are easy to follow. Users are told whether to Buy or Sell on different currency pairs. These signals also indicate where to set take profits and stop losses respectively.
Due to different broker price quotations, Fore Signal claims that they do work with average figures as prices for different brokers are aggregated and average calculated based on those figures. This is supposed to give them a 'sweet spot' for entering and exiting trades appropriately.
However, in all this, there seems to be a catch. It looks like these people tend to make traders who utilize their free signal service wait a little bit longer in order to receive signals.
This is to say that Fore Signal will still provide you with the promised signals when you are subscribed. However, the delivery of those signals won't reach you in time, and this may impact your results negatively (in most cases).
Likewise, these signals are also forwarded through their social networks. The net effect is that people who follow them may not enjoy signals that are dispatched in time.
Breakdown of their products
We mentioned that this signal provider is using a free service with the intention of luring customers to upgrade to their paid service. It's therefore a little bit of a challenge forming an opinion based on their free service. Unless you are willing to subscribe and test their service for a month (at least), there is no way of getting an accurate picture of this service.
So far, Fore Signal have 3 plans. The first plan is a monthly subscription which costs $29. The second subscription is a 3-month plan which will cost you $59. And of course the third subscription plan runs for 6 months, and it costs $89.
Generally, Fore signal is trying to encourage its users to go for the long-term plan which costs $89 because it's cheaper at the end of the day. On the other hand, the monthly plan is suitable for those who want to test their signals in order to make up their mind whether they'd want to continue or not.
ForeSignal claims that they trade all major pairs at all time frames. The strategy used to generate these signals is not mentioned. We would have appreciated a detailed explanation on how these signals are generated.
Trading performance
I can say that this is not a costly signal service, yet they are not the best free Forex signal provider on the web. I've come across other signal services charging as much as $100 or more per month.
But with this one, it's quite affordable, and this begs the question of: do they have a track record? Can they prove their trading performance?
There is a graphical presentation of all current trades on the website. This information is supposed to highlight all major pairs that are currently being traded as well as the number of pips that were netted or lost in the process.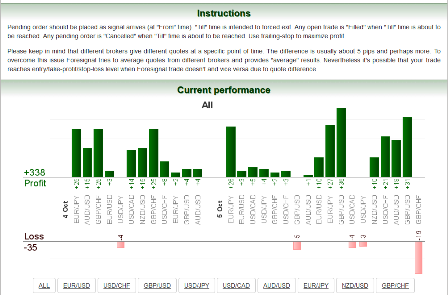 Since 2016, these guys have never had a losing month. It's amazing to see that their signals are so accurate that they don't make losses, only profits. These numbers sound like stats that scammers love to play around with. They are difficult to believe, and that's the truth.
Anyone who would want you to believe these numbers is definitely making a fool of himself. I generally like to see a provider's myfxbook or FXBlue accounts. This is the only way to verify the legitimacy of those stats. Otherwise, we will just ignore them for now because they honestly can't influence this review in a positive way.
How about customer feedback?
Customers of this website are not saying good things about the service. Even before I came across these user testimonials, I had already anticipated that reviews on this service would be negative.
My fears were confirmed when I checked these reviews on FPA. Most comments here just confirm our suspicion about the service. Usually, when I come across a signal provider who is keen on not verifying their trading performance, I often take it as a red flag. So this one too is not an exception. It's an approval that Fore Signal is a total joke.
By looking at these comments and testimonials, I am able to see that the results stated on their website is quite different from the actual results which traders are getting. And the worst thing is that most of those who comment on this service believe that Fore Signal cannot be trusted. There is no excuse for defending poor results.
I'd like to mention that this website is also run under various other domains which include Live-Forex-Signals.com and Take-Profit.com. Here, Fore Signal offers the same exact trading products. So this review might be as well relevant to those two websites too since they are owned by the same person.
Wrapping it up
I would not hesitate to dismiss this signal service right out of the box. However, I feel that this would be mean and unfair to whoever is running this website.
So what am I intending to do? Well, I am just warning you not to subscribe to Fore Signal yet. There are lots of pending issues that need clarification. I can't just recommend a service based on my faith that it will work. That would not be ethical at all.
First of all, the numbers that Fore Signal is talking about here are very unrealistic. Secondly, those numbers have been dispelled by negative client reviews on FPA. It's not by coincidence that this is happening. It only means that Fore Signal is providing a poor service to their clients.