Exchange Bitcoin, Ethereum and other Cryptocurrencies to PayPal US Dollars
There are many ways to make Bitcoins. You can buy, mine or receive them as a form of payment from your customers. If you want to sell your Bitcoins to USD, most exchanges will keep you waiting for up to 8 hours. Some will even get your PayPal account suspended.
However, we have launched a service that shortens the wait time to 1-2 hours at most, and will not get your account suspended. We know the ins and outs.
This exchange service lets you sell your Bitcoins to PayPal USD, which you will receive in your account in less than 2 hours.
Send the amount you want to sell to PayPal dollars using the button below. Please note that we are also supporting other major Crypto currencies too.
  ↓
You can sell Bitcoin Cash, Ethereum, Dash, Litecoin and many more to PayPal USD.
Please note: We charge 2.5% processing fee. You will receive your funds into your PayPal account in 1-2 hours.
Explaining the steps to selling Bitcoin for PayPal USD (click the button above to begin)
Step 1: Select the amount of Bitcoin you want to exchange to PayPal US dollars from the slider.
Step 2: Click the blue Check Out button
A list of other Crypto currencies will show up. You can opt to pay in Bitcoin or in any other Crypto currency of your choice.
We support Ethereum, Litecoin, Dash, Bitcoin Cash, Tron, Nano, Steller, Zcash, EOS, TrueUSD, XRP and so on. See the image below.
Step 3: Send the amount of Bitcoin or any chosen Crypto currency that you want to exchange to PayPal USD using the wallet address below.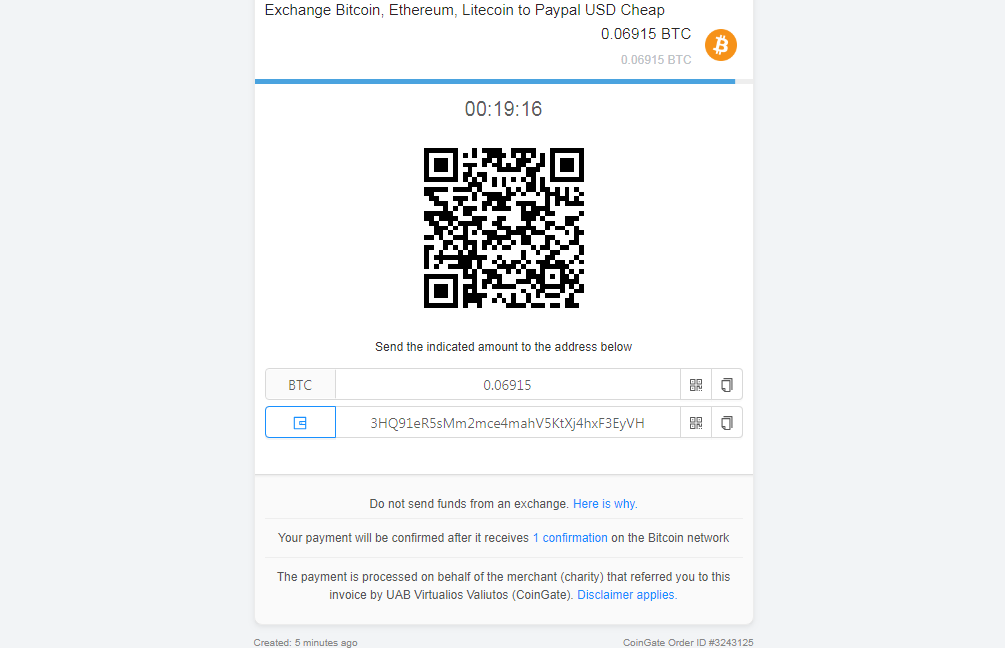 You will receive a notification in your email after one confirmation that your payment has been received.
Wait for your funds to arrive in your PayPal account.