Altredo.com Review: Scam or Legit Automated Trading Robots Marketplace?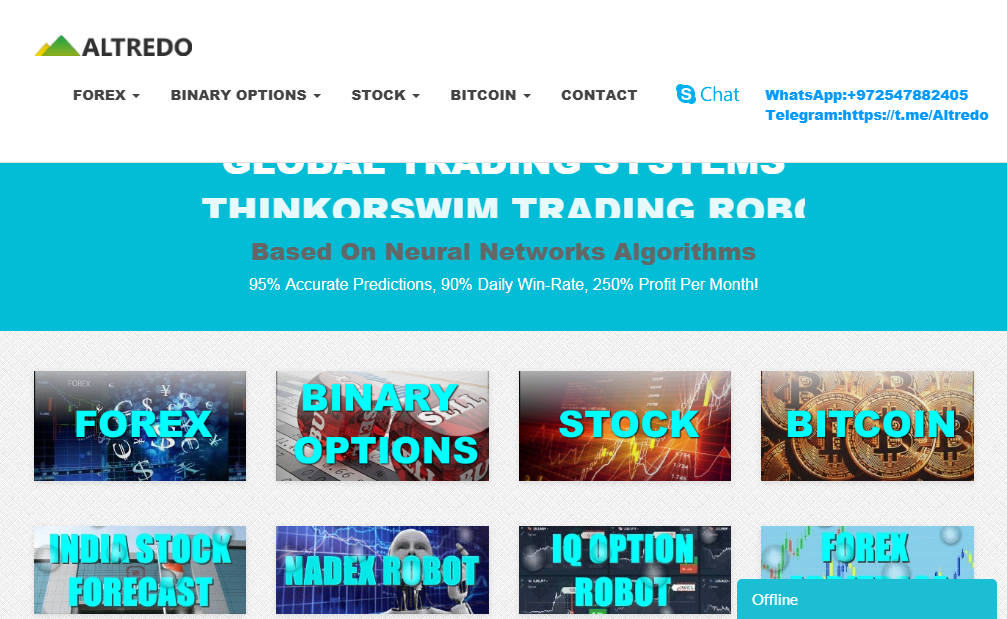 Welcome to the Altredo review. This is the name of a developer offering a smorgasbord of trading products targeted at Forex, Stocks, Binary options and Cryptocurrency traders.
The domain Altredo.com was privately registered in March 2010, and has been selling a number of automated trading solutions since then.
In addition to this, this developed has a number of trading robots and indicators which are allegedly customized for trading on popular trading solutions such as NinjaTrader, IG Trading, Tradingview, ThinkorSwim, and CQG Q Trader.
The guys who run Altredo can be reached on Skype, Whatsapp +972547882405 or telegram https://t.me/Altredo.
After researching and analyzing the products offered by Altredo, I was shocked to find a number of disturbing allegations claiming that Altredo is a scam.
Indeed there are many Altredo reviews out there which appear to be speaking with the same voice.
Meanwhile, Altredo continues to sell these automated trading systems for the price range of $360 and $1500 per license. This is definitely not the price range for your average trading robot, and it's in your best interest to dig deeper in an attempt to discover whether Altredo products are really worth the sacrifice.
Altredo Review
The smorgasbord of products are geared towards Forex traders, stock traders, Bitcoin and Binary options traders respectively.
There is a bunch of trading products under each category. They are listed as follows:
Altredo Forex trading products
Forex Robot Ideal Scalper $430
Forex Scalper Robot EA  $360
Forex Robot Double Profit  $430
Forex Robot Arbitrage $770
IG Trading Robot $1500
Forex Robot Multi Currency Scalper $360
Forex Signals Indicator $360
Altredo Stock trading products
NinjaTrader robot   $1080
Tradingview robot $1080
Thinkorswim trading robot   $1500
CQG Qtrader   $1500
Gold Trading robot  $360
Online Gold Predictor  $260/month 75%-80% win rate
Online Stock Predictor  $260/month
Altredo Cryptocurrency trading products
Crypto Currencies Signals Indicator  $360
Crypto Currencies Trading robot Kucoin  $1500
Bitcoin Prediction Indicator $360
Bitcoin Robot Scalper $360
And guess what, all of these products are meant to scam you! The list is quite big and I can't exhaustively list their Binary trading products here as well. But I hope you're getting the clue so far.
Altredo Review – summary of the features
Some of those products do not come with a one-time payment price tag, and so traders must subscribe on a monthly basis.
Free technical support is allegedly offered through Email, Skype and TeamViewer, meaning that if you are somehow unable to setup any of their products for trading, they will literally do it for you.
Some of Altredo's products allegedly have a win rate of 95% and sending up to 50 signals a day. An example of such a product is called Online Stock Predictor.
The Online Stock Predictor is basically a web-based interface for receiving stock trading signals, and there is no need to download or refresh the interface to keep it up to date.
The Online Stock Predictor runs 24 hours a day, and there is no specific broker or time frame requirements. However, Altredo does not go into details about what trading strategy they are using, and have refused to verify the alleged 95% win rate.
In the meantime, Altredo continues to sell this trading product for $260 per month.
There are many examples of automated trading products offered by Altredo that were not described properly, and claims were left unverified.
In fact, most of the products offered by the developer have a quick but shallow description. The only concrete description that we have for these products is the type of trading assets which they are compatible with.
The rest of the points which allegedly describe the features of these automated systems are nothing but promises.
From the image above, you can see that this developer is really missing the whole point, and is listing down the supposed advantages instead of the features of the particular Forex robot which they are describing.
The only time they tried to provide additional information was when they described their Forex Robot Arbitrage where they claimed that this automated Forex robot uses statistical arbitrage strategy coupled with quantitative analysis algorithm.
This Forex robot is allegedly analyzing live market data in real time and also generating 90% accurate signals for trading.
For most of the products here, there is a video right below the short description which emphasizes on the details of the product in question.
Again, these video clips do not necessarily give us the concrete explanation that we are looking for.
So we wonder how on earth Altredo is expecting traders to invest $360 or more if they have not proved that their products work as described.
Altredo trading results
This is yet another incidence where Altredo is disappointing because they presented screenshots of the MT4 accounts where the various products which they are selling were allegedly being used to generate positive results.
I have already discredited this type of work because clearly screenshots can be manipulated with a simple photo-editing software.
To cut a long story short, Altredo is unable to produce verifiable trading results to prove that their products work as described.
Altredo reviews
Well, all Altredo reviews that I have come across are extremely negative. Accusations ranging from their operators being arrogant to how guys were robbed in broad daylight.
Some previous customers have also claimed that Altredo will block you on their Telegram channel as soon as you raise an issue with one of their products.
I strongly believe that these claims are based on the truth. The style of presentation on the sales page tells me that this is a scam developer.
I therefore have no doubt at all that any trader who purchases a Forex trading software or indicator will end up losing their money.
Conclusion
I don't know about you, but I find it quite difficult spending over $300 on a trading product that has never been proven to work.
Also, with so many negative reviews floating around online, I can't trust Altredo with my money. For that reason, I disqualify this vendor and send them right to the blacklist of scam developers.
PS: if you have been scammed by this developer, please tell us what your experience was in the comment section below.